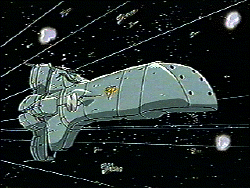 Personal warship of Imperial Fleet Admiral Ernst von Eisenach.
Military Service
Edit
The Vidar was built like a rocket. With its four main engines aligned around a central axis, the Vidar is faster and more maneuverable than most other vessels of similar size.
Mechanical Details
Edit
Length: 948 meters.
Width: 264 meters.
Height: 301 meters.
Armament: 6 forward cannons; 2 port cannons; 2 starboard cannons.
Crew: